Awoo! Spring is coming! Murkwood is thriving with the energy of spring and the swamps bloom to life. The chorus of frogs fills the air as flowers blossom out across the bogs, marshes and pits. Water voles run along the riversides, bird song returns as they migrate back to the warmer weather and bats shake off their hibernation to fill the evening skies. From catkins budding on the willows to the crimson buds of wych elms, the wetlands burst with colour.
---
And with spring comes tying up loose ends and organising our spaces. There's so much to do before launch comes around! Finishing den lore we've put off. Saving wolf profiles for launch. Crafting customs for our starters. Deciding our future breeding projects. Drawing page breaks and shop fronts or scenes from our lore. That's why with the help of Kate and MaggotJuiceBox, we're hosting Lorch! A month long creative challenge revolving around Lorwolf with a spring twist. Every day during March, anyone who wants to participate in this challenge creates either a drawing, writing or any other creative task involving their wolves or Lorwolf in general and post it online.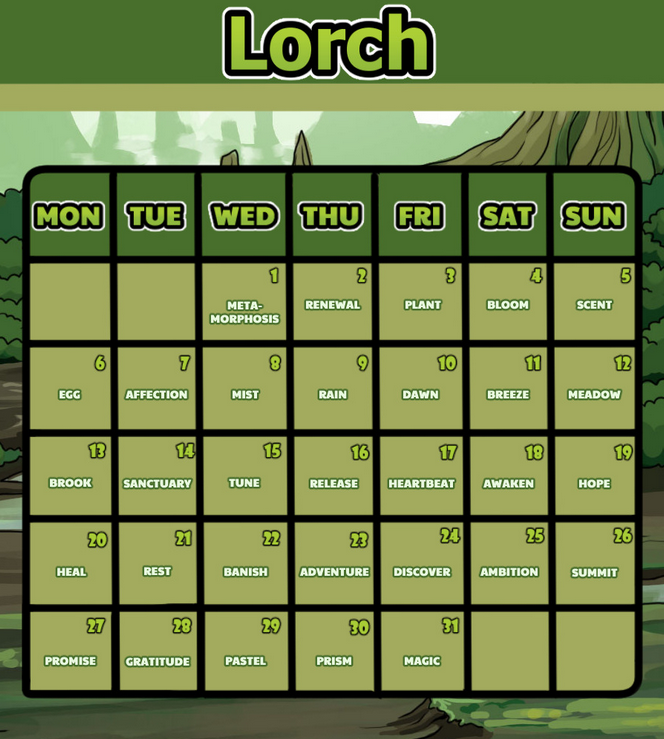 Not liking some of the prompts? Here's a word bank you can replace any of the days with:
Transition - Rejuvenation - Sprout - Flora - Growth - Dew - Forest - Fountain - Home - Tidy - Breathe - Expand - Hope - Freedom - Voyage - Wonder - Energy - Alchemy - Delight - Acceptance
You can post your submissions on Tumblr, on Discord in the Lorch channel (to be made) or here, in Lorch forum event thread.

All creative tasks are counted; however, irl activities like baking, knitting, woodwork, and clay-making do require an irl photo.

For written pieces: The minimum word count is

250

200 words. (The exception is poetry, but you must spend at least 20 minutes on your poem.)

All creative tasks must be created by you specifically for this event.

You will receive your prizes as a code for launch!
Aside from drawing and writing, there's plenty of other ways to join in on Lorch. Creative Tasks can include cross-stitching, paper-folding, creating a tune, paper mosaics, crochet, scrap-booking, ceramics, cake decorating, making tea blends and jewellery. As long as it can be tied in to the prompts and Lorwolf, your den, lore or wolves, it's a great task to do.
Don't forget to tag your submissions with #Lor-ch or tag @quichelewoof​ if posting on Tumblr, so others can find your wonderful creations and they can be tallied towards your prizes.

To check out how many submissions you've submitted, see our handy dandy Google Sheets page: Link